The National Youth Council of Nigeria (NYCN), Lagos chapter, has urged the youths in the state to put an end to the ongoing "EndSARS protest against police brutality."
The body made this known in a statement issued on Friday, October 16, amid ongoing demonstration currently gaining momentum globally.
NYSC stated that with the scrapping of the controversial SARS unit by the police inspector-general Mohammaed Adamu, youths must give "further engagement and monitoring of government's commitment to promises made."
Most importantly, the group also urged the protesting youths to allow the socio-economic activities in Lagos state to "continue as usual for our own benefit," adding that youths have a great impact in making the country great again.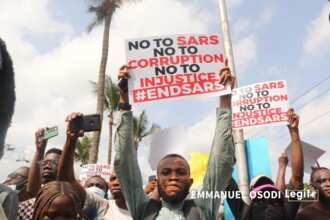 Youth group calls for an end to the EndSARS demonstration in Lagos. Credit: Legit.ng's Emmanuel Osodi.
Part of the statement read:
"We, as the Youth vanguard in the State, must ensure that, we demand a better Nigeria from the government and not to sabotage other citizens effort to live peacefully.
"Therefore, let's halt all protests and return to the drawing board to restrategise with regards to better monitoring and engagement to address the issue of future cases where the government reneges on their promises.
"We understand the associated and pending national issues such as: ASUU strike, increasing unemployment, and enduring insecurity are fuel to the lack of trust in the government. However, we must act with tact.